The Halloween Emoticon Set is out now. In cooperation with the site Scary-Movies we brought to you this emoticon set. 10 Halloween related emoticons was added into this set.

Halloween Emoticon Set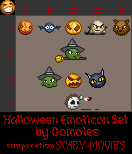 Pixelfonts by: `Mirz123 and =SparklyDest
The emoticon set included ten related Halloween emoticons. Monsters and insane manicas lurking into the Halloween emoticon set, so be careful if you open the emoticon set.
The emoticon set is free, and you can use it on your sites, projects, chats, forums or blogs. Just notice, some little information, to this emoticon set.
If you want to share this emoticon pack with your friends, please send them directly to Gomotes or Scary-Movies.
Beware of the monsters and a great Halloween to all of you.
I'm really curious so if you use my emotes on your page let me know it.