Show the World if you feel sad, all of these emotes express a sad mood.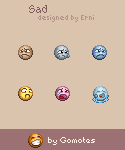 Collection of sad emotes
Sad Emoticons
To view an emote click the description.
You need more sad emoticons. Send me your request via mail.
That's by far not all emotes at Gomotes. Take a further look to the emote collections.