Most of these emotes where inspired through movies.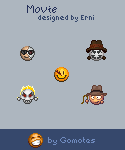 Collection of movie emotes
Movie Emoticons
To view an emote click the description.
You have a idea for a new movie emoticon, send your idea via mail.
That's by far not all emotes at Gomotes. Take a further look to the emote collections.