These emotes are active in different ways. With simple animations, they become alive.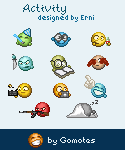 Collection of activity emotes
Activity Emoticons
To view an emote click the description.
You've an idea for a new activity emoticons? Send me a request with your idea via mail!
That's by far not all emotes at Gomotes. Take a further look to the emote collections.