Find some nasty emotes in this collection. To view one of these emotes, is at your own responsibility.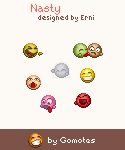 Collection of nasty emotes
Nasty Emoticons
To view an emote click the description.
You like to see more nasty emoticons, send me a request with your idea via mail.
That's by far not all emotes at Gomotes. Take a further look to the emote collections.