Emotes are art! If you don't think so. Take a look at the following emotes.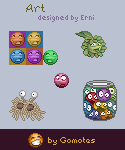 Collection of art emotes
Art Emoticons
To view an emote click the description.
This collection show you how emotes can be art!
That's by far not all emotes at Gomotes. Take a further look to the emote collections.