Find the whole alphabet, into this emote collection. All of these emotes show some letters from the alphabet.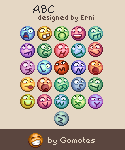 Collection of alphabet emotes
ABC Emoticons
To view an emote click the description.
These emote collection was inspired by the Tardmotes created by darkmoon3636.
That's by far not all emotes at Gomotes. Take a further look to the emote collections.