Welcome to the emote zoo. Take a tour and find different animals in this collection.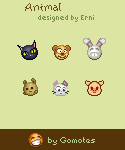 Collection of animal emotes
Animal Emoticons
To view an emote click the description.
Your animal is not in this collection? Ask me if I can do one for you and send me a mail with your request.
That's by far not all emotes at Gomotes. Take a further look to the emote collections.