Zombie emotes, brain dead this place is full of undead zombies. Stay into the safe zone and pay attention that you won't be bitten from a zombie.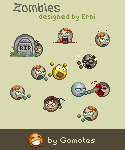 Collection of undead emotes
Zombie Emoticons
To view an emote click the description.
If you want to see more zombie emoticons send a mail with your request.
That's by far not all emotes at Gomotes. Take a further look to the emote collections.