Today almost every community have his own emote set. The following emotes show the basic expressions.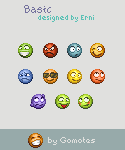 Collection of basic emotes
Basic Emoticons
To view an emote click the description.
Most of these emotions are in basic emoticon set's.
That's by far not all emotes at Gomotes. Take a further look to the emote collections.