Extraterrestrial emotes, also known as aliens. If you believe or not, on Gomotes they exist.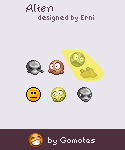 Collection of extraterrestrial emotes
Alien Emoticons
To view an emote click the description.
You want more alien emotes, just send an request with your idea via mail.
That's by far not all emotes at Gomotes. Take a further look to the emote collections.