Support your nation with one of these flag emotes.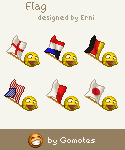 Collection of flag emotes
Flag Emoticons
To view an emote click the description.
You miss your country? Ask me if I can do a flag for you and send it via mail.
That's by far not all emotes at Gomotes. Take a further look to the emote collections.