The six demons of abyss. These emotes are guardians of hell.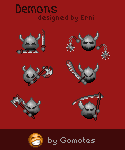 Collection of demon emotes
Demon Emoticons
To view an emote click the description.
These emotes include a concept of different weapons. Each demon have a several weapon. Also I work with a background for these demon emotes.
That's by far not all emotes at Gomotes. Take a further look to the emote collections.