Hi guys,
I design my emotes for online communications, so I offer you different ways to add them into your conversation.
At first be sure if it's allowed to add external graphics to the site. Contact the webmaster if you're not sure.
Browse an emote to find the code snippets, you'll find the code snippet into the Emoticon Box.
Example: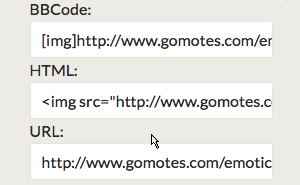 Mark the code snippet, be sure you mark the whole code!
You can choose out of three code snippets. Mark the snippet you want to use. Now copy the snippet, use the keys ctrl and c (windows) or cmd and c (apple). Go to the place where you want to show the emoticon and use the keys ctrl and v (windows) or cmd and v (apple).
Which code snippet I should use?
BBcode: this code is for message boards.
HTML: use this code to show emoticons on pages, blogs, profiles or journals.
URL: use this code on Google+ or Tumblr.
Be careful to copy the whole code snippet or the emote will not displayed.
Info: You want to learn more about Gomotes? Take a look at the tutorials.