Howdy folks,
this tutorial will help you to change the background of an emote.
You'll find the feature into the Emoticon Box.
Example: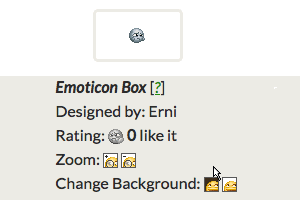 How to switch the background of the emote.
You can easily switch through a dark and a light background. Just click the dark or light symbol, to the change the background.
If you want a preview how an emote will display on another background. This feature allow you to take a preview.
There are some known browser issues, where this feature is not compatible.
Info: You want to learn more about Gomotes? Then take a look at the tutorials.